Be part of this community
Yolo Food Bank coordinates the recovery, storage, and distribution of more than 8 million pounds of food annually. We collaborate with a network of grocers and retailers, farmers and distributors, the private sector and governmental agencies, and 84 partner agencies countywide.
21,500+
participants receiving food assistance each month
8,000,000
pounds of food distributed annually
Our mission is to increase food and nutrition security and help create an equitable and sustainable local food system.
Providing weekly distributions of fresh produce, dairy,
meat, and other non-perishable goods
Delivering groceries to low income senior citizens, people with disabilities, or mobility-restricted neighbors
Supporting elementary-school-aged children's access to
local produce and nutrition education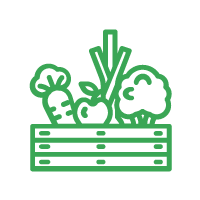 Supplying fresh produce, shelf-stable food, and personal
care products to 84 partner agencies countywide
Nearly half of all families in Yolo County don't earn enough to meet basic needs. Not only did the pandemic ...
Read More >

→
During a tour and press conference at Yolo Food Bank on July 27, United States Secretary of Agriculture Tom Vilsack ...
Read More >

→
Yolo Food Bank partners with dozens of organizations to provide food to people and families in need.